Didier Perarnaud has been an aviation expert at Erget Group for many years and the group is now supporting him with his project.
Port and coastal water quality, which plays a major role in the health of humans and aquatic ecosystems, is affected by metal waste.
Analysing these metal trace elements (MTE) in marine water remains a challenge.
On board their sailboat Ka Ora, which means "that's life" in Maori, Didier and Dominique will sail from Sète in the South of France to the Marquesas Islands in French Polynesia via Gibraltar, the Canary Islands, Senegal, Cape Verde, Brazil, the West Indies and Panama.
Throughout their trip, they will take samples which will be sent to the University of Bordeaux I:
– 48 samples will be taken at 12 ports of call, so 4 samples at each and 2 control samples out in the open sea.
– The University of Bordeaux's EPOC research lab will collect and analyse the seawater samples to identify any traces of pollution caused by human activity.
The results acquired during this study will be particularly innovative as, for the first time, they will be compared with concentrations of metallic traces from human activities based on statistically representative sampling and acquired using a single analytical procedure. Subsequent samples taken at the same locations will be used to measure changes.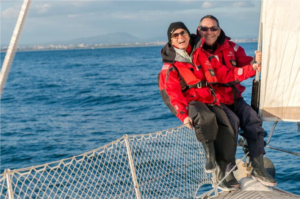 Didier, skipper of the Ka Ora sailing boat
"I was born in Marseilles and the open sea has always held an attraction for me. In 2013, I set off on a transatlantic trip from Sète to Le Marin (Martinique). It was more of a personal adventure than a sailing one; an opportunity to ponder the meaning of life. When I got back, I soon started to plan to have my own sailboat, so I could continue to sail. My partner Dominique and I bought Ka Ora in 2015 and gradually broadened our sailing skills, embarked on greater adventures and tried new things until we were ready to cross the Atlantic!"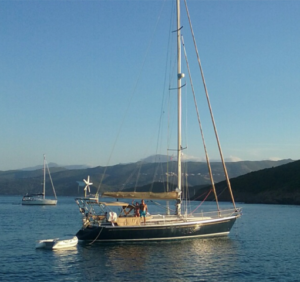 The Ka Ora sailboat
The 13-metre Grand Soleil sailboat, built by Italian shipbuilder Cantiere del Pardo, already has 2 transatlantic crossings to its name, sailing the coasts of Brazil and the West Indies. It has its own power supply thanks to 250 W solar panels and a wind turbine, as well as a desalination system for drinking water.